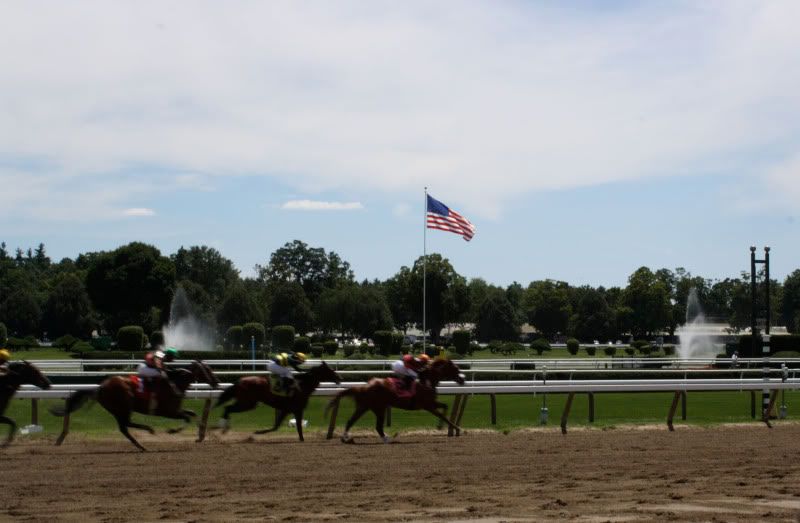 On Friday, I had accrued enough hours from earlier in the week to leave work at 2. It was a glorious feeling. At 4, Tom and I drove up to Saratoga Springs and got there around 8.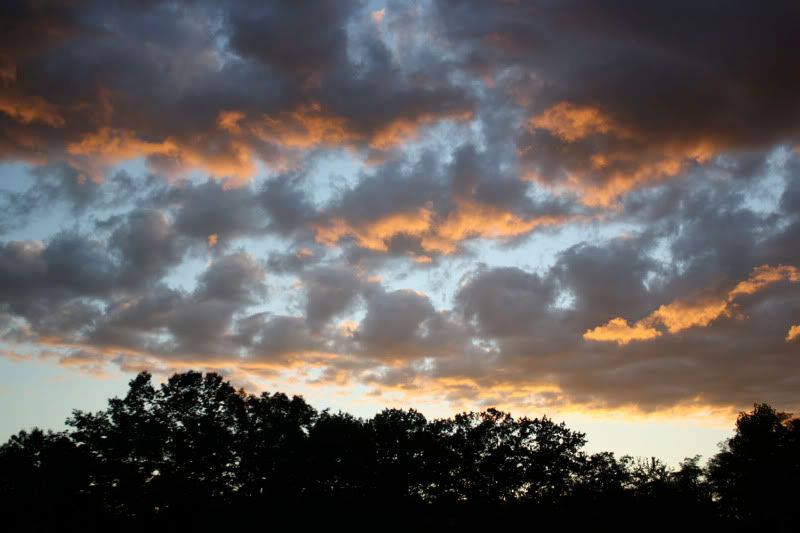 great sunset we saw
We booked a hotel in Albany since the rates in Saratoga were steep in the $400+/night range. Our room at the Holiday Inn was standard with 2 double beds, but we didn't stay there long since we wanted to get into Saratoga Springs that night for dinner. We found a spot in one of the many public lots which happened to be down the street from Hattie's.
Hattie's, an institution in Saratoga since 1938, was featured on Food Network's Throwdown with Bobby Flay for their fried chicken, and won. We put our name on the evergrowing list of names with the Hostess and was told we'd have to wait about 40 minutes. Yikes. We ended up walking around a bit and checked out some of the places a coworker recommended to me. Tom and I grabbed a drink in one of the bars that have an outdoor seating area but soon realized it was already 9pm. We went back to Hattie's and only had to wait about 5-10 minutes longer to be seated.
As we were starving, everything look amazing and we ended up getting 2 appetizers and 2 orders of the famed Fried Chicken. They brought out a basket of mini buttery and flaky biscuits that came right out of the oven and corn bread. We inhaled those in 5 minutes.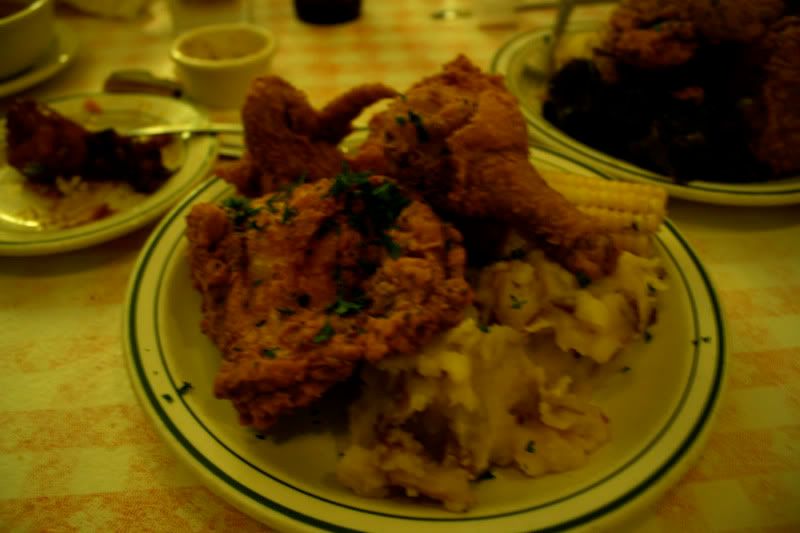 So mad there was not enough lighting to show off the deliciousness of their fried chicken!
We started off with a some Southern Style shrimp, which in my opinion was nothing too spectacular. 5 medium-sized pieces of shrimp over a bed of greens for $12 was not exactly worth it. We also got an order of $9 chicken wings (which in retrospect was silly of us because it came with 8 generous pieces and we only had more chicken to go) that was smothered in a sweet and spicy sauce (that I enhanced by dousing it with Hattie's hot sauce- also known as Red Devils) and was so full I could barely enjoy the fried chicken. I could definitely appreciate it though; the skin was light and super crispy. Plus, at $16 a plate, you get 4 pieces (half a chicken) and 2 sides. I ordered the sweet corn on the cob and mashed potatoes with a side of gravy and Tom got collard greens (which were sweet and fresh) and mash. I couldn't finish all the chicken nor the mash, which is unheard of and it wasn't like we could take it home with us :(.
We literally waddled out of there, so sick but satiated. You know, the same feeling you have when you say, "I'm never eating again!"
The next day we got to the racetrack pretty early. I was decked out in my new dress and funeral hat ready to go. It was my first time at one where I was old enough to be cognizant of what to look for in betting. The last time I remember being at the horserace was when I was around 3 or 4 years old, with my dad and grandparents and possibly cousin Richie at Belmont. They sat me down with a box of Bugles (the corn chip that looked like a bugle) and I happily stared at the back of the box that had pictures of what you can do with Bugles such as put them on your fingertips and pretend they're nails which was always my favorite. I don't remember seeing horses at all actually. Anyway, Tom showed me how to read the programs with all the races and horses and jockeys. It was a lot of little numbers and letters to decipher but I got the hang of it after awhile. The first race was posted at 1pm. We had gotten a large freshly squeezed lemonade and placed a joint trifecta bet. It was actually pretty exciting seeing the horses race by towards the finish line. Everyone was shouting but we didn't win. The next race we decided to place separate bets. I feel like betting is a pretty serious thing there and you don't want to look like an amateur or ask the attendants what to do so I was freaking out asking Tom what to say as I completely forgot everything he told me. "Just choose Exacta, Trifecta, or Super… or box them." " UM THANKS, TOM, I HAVE NO IDEA WHAT THAT MEANS!". So I stumbled and said "$1 Exactabox bet on horses __, __ and __ " Then I thought I had done something wrong and was pretty upset over it but Tom looked at it and said it was fine. (for those of you who don't know, exacta means naming 2 of the horses in the top 3 places, and boxing them means it could be in either order. Betting on more than 2 horses ups your chances but also increases the bet total) Well turns out I had a winning ticket and got $25. Of course Tom had to remind me that if I had made a $2 bet, I would've gotten $50.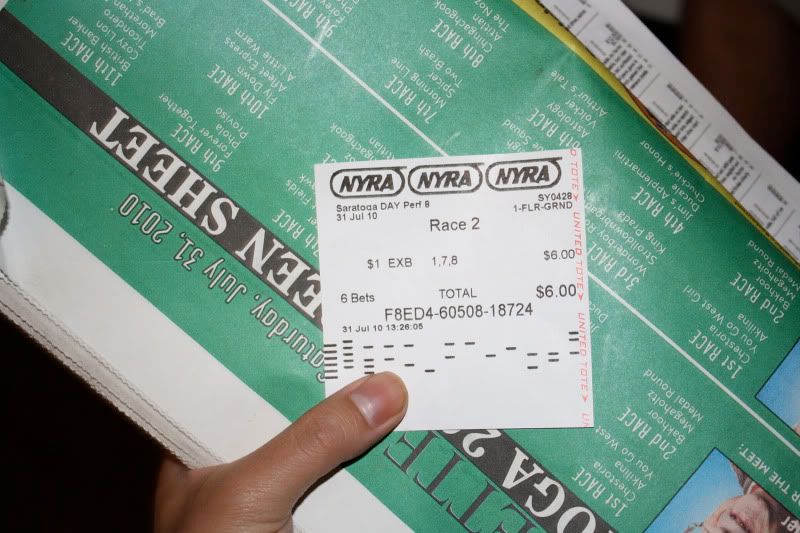 my winning ticket!
Ah well. I attribute it to beginners luck because I think I only won once more after that. We did horribly the next day and could've won $200, but we won't talk about it. I didn't get to eat there since I bought a ginormous soda at Nathan's which I won't be doing again.
In the next post, I will talk about the various natural spring waters we tried, and OneCaroline.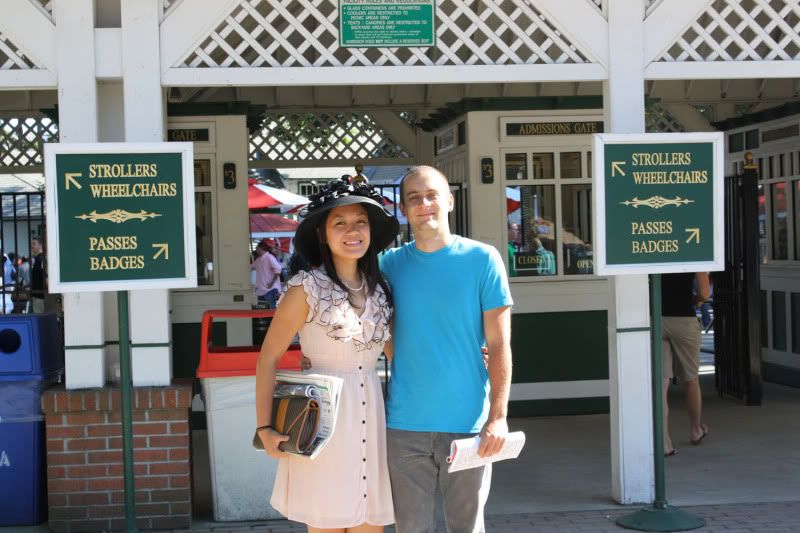 me and tom